Stable double sided banner stand with an aluminum frame and a heavy but flat base. Available in three different sizes, incl. print
The "Magnetic" banner stand is well suited for presentations and advertising measures indoors. The individual print motifs are fixed all around with magnetic tape and ensure that the prints stay in place.

Stable double-sided banner holder with aluminum frame and heavy flat base. Available in 3 different sizes. Easy to assemble. The print is fixed in the edges with magnetic tape (incl.) and is easily mounted on the banner holder.

For advertising campaigns that require frequent assembly and disassembly or that are planned for a long time, we recommend our roll-upClassic Premium..
Technical details
?
Aufbau
Even inexperienced users can set it up within 10 minutes. Assembly tool, an Allen key is included. Neutral assembly instructions are included.
Construction time
Aprox. 10 minutes
Set-up dimension
Bannerstand 40x160cm = 40,5x161x25cm
Bannerstand 60x180cm = 60,5x181x25cm
Bannerstand 80x200cm = 80,5x201x25cm.

Print dimensions
Depending on the selection, 40x160cm, 60x180cm, 80x200cm
?
File resolution and print resolution
"dpi" stands for Dots Per Inch and describes the resolution that your print file should have for an ideal result for the respective product.
For example, the value 600dpi refers to the vertical and horizontal resolution of the printer and thus indicates its quality. It is usually higher than the file resolution.
Print quality
Digital print CMYK with 600 dpi, UV-stable (file resolution max. 150 dpi)
print media
print media without B1
Pop-up material 320g/m² (opaque), with protective matt laminate (scratch-resistant)

print media wit B1
Pop-up material hard PVC 360g/m² (opaque), with protective matt laminate (scratch-resistant) with white back
Packaging, storage
Please avoid parking spaces with heat sources such as heaters or direct sunlight, as this could liquefy the adhesive and the magnetic tapes could come loose.
Good to know
?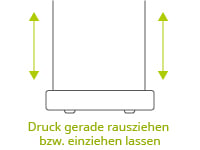 Transport of the prints
Please transport the prints rolled up and protected. Otherwise kinks may occur
Color deviations
If you want to check the color reproduction, we recommend a test print on the selected material.
More info on color.
Shipping costs and weight