Sticker for illuminated transparents in your desired size on permanent self-adhesive foil printed in 4/0 CMYK. A durability of 7 years is guaranteed and it's useful for brilliant outdoor advertising.
We produce the self-adhesive foil in your desired size.

The sticker is great for illuminated backgrounds and your advertisment in lightframes or lightboxes. Ideal for outdoor advertising. Suitable for long-term advertising by a durability of seven years.


Please note:
If you want to apply the foil on a sign board please add 5mm around the final size without crop marks. Please inform us or leave a note within the ordering process or send us information to auftrag@werbecenter-berlin.de.
Technical details
Used for
Perfect for Indoor and Outdoor, for backlit advertising as lightboxes and citylights.
Manufacturing
We will cut to the ordered size. Oversized motifs will be seperated according to our data sheet. The stickers will get 5mm overlap.
Printing measurements
The maximum printing width for a rectangular motif and stickers with a cut contour is 1.40m. Up to these values the stickers are produced in one piece. All larger dimensions will be divided according to our data sheet.
Print quality
digital print, CMYK latex (scratch resistant), 600x600dpi, file resolution max. 150dpi
Print media
calendered PVC vinyl foil, silk glossy, translucent
Special features
Consistent light transmittance and light scattering, with matt protective laminate (scratch resistant)
Durability
Indoor: seven years; outdoor: depends on intensity of solar radiation and place of installation: in average two years, in maximum four years. In extreme cases, e.g. installation on a flat roof, one year.
Adhesive
permanent adhesive solvent-polyacrylate
Notes
?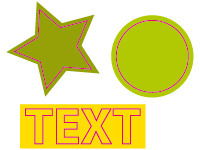 Kiss cur / die cut
We can cut around the motif, so the sticker only consists of the motif, without white background. For the contour cut we need a cut contour and bleed. Further information you will fiind in the data sheet.
Kiss cut / die cut
Contour cut possible, please check cost (depending on quantity) in advance.
Minimum size
The minimum size per piece is 0.5m². If the order would be possible, please contact us in advance for smaller sizes.
Mounting
The adhensive foil should be applied by experts. We recommend only a partial application up to max. 50% of the glass surface. When the sticker foil is applied completly on a glass pane you cause a risk of fracture! If you have any questions do not hesitate to call us.
Maintenance
Wipe the print surface with a soft cloth and water, please do not use detergents.
Sheet transition
Large, divided motifs will get 5mm overlap for a double cut.
Colour deviation
If the color compatibility is a high priority, please order a proof. This allows you to counteract color variations and customize them in your file.